New Delhi, April 16, 2018: Yahoo Cricket has amped up the fun this cricket season with a host of new feature updates. The app now also offers scores in 7 different regional languages including Hindi, Tamil, Telugu, Kannada, Marathi, Bengali and Malayalam. The Yahoo Cricket app is also available in six new countries on Android only, including South Africa, UAE, Sri Lanka, Zimbabwe, Pakistan and Bangladesh.
The Yahoo Cricket App, refreshed in October 2017, has launched new feature upgrades just in time for the T20 action. Alongside lightning fast scores (try it!) and crisp match info, cricket fans can now dive deeper into player profiles and rankings, besides easy access to news listings, without leaving the app.
Here's a look at what more Yahoo Cricket app has to offer:
Stay up-to-date with the latest happenings in the Cricket universe
Users can now easily follow all the latest announcements and news updates from the world of cricket, through the news listing icon in the scores tab.
Instant score updates to not miss a single moment
With the Yahoo Alerts feature, users can now see instant score updates in real time. So the next time Kohli hits a six, they know exactly how far the ball flew and who the unfortunate bowler was.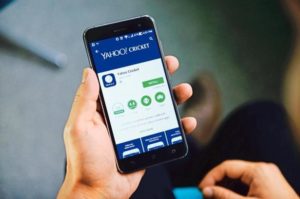 Up and close with your favorite team and players
Rankings and player profiles are now easily accessible for users from the menu bar of the app. Users can access updated and detailed rankings covering Team, Batsmen, Bowlers and All-Rounders from T20, ODIs & Test Matches.
Snap that legendary cricket moment
Through the interesting 'Picture Perfect' feature, users can view hand-picked and vibrant photo galleries of the match in an exclusive section on the app.
Other popular features include Moments you Missed, Ball in Play (view the bowler's steps as he starts his run-up until he delivers the ball) and Fan Shout (take a live poll and find out whether other fans agree with you!).
Commenting on Yahoo Cricket's line up, Gurmit Singh, VP & MD, Yahoo India, said, "We wanted to make this cricketing season memorable for our users. Indians love their smartphones, and cricket even more! We will keep them connected to every second of the action, on the go. Since the excitement extends beyond the stadium, we wanted to step up the fun there too. The Yahoo Cricket anthem, which will air in partnership with BIG FM, perfectly captures the spirit of the game and what it represents for millions of cricket fans."   
In less than four months of the refresh, the Yahoo Cricket app touched 1.5 million downloads on Android, with users giving the app a 4.49 star rating on Google Play.Fans can download the Yahoo Cricket app on iOS and Android.
Taking the cricket fever up a big notch, Yahoo has created a sizzling high-energy Yahoo Cricket anthem, sung by singer-composer Vishal Dadlani. Yahoo Cricket has partnered with BIG FM, which will play the anthem throughout the premier league season as its radio theme. This will be played across all 59 stations of BIG FM in India. Further, fans can enjoy 'Silly Pant of View', an original, exclusive Web-series on Yahoo Cricket, hosted by stand-up comic Sorabh Pant. He will take on everything cricket in these no holds barred episodes which will be available on the Yahoo Cricket app and website, along with the official Facebook, Twitter andInstagram pages of the app.