New Delhi:- With over 3 million registered users on Testbook.com and over 4.5 million registered users on Current Affairs App of Testbook, and 3 lakh + daily visitors, Testbook.com is emerging as India's largest online test prep community. Testbook is catering to aspirants preparing for government exams such as SSC CHSL, CGL, GATE, RRB, Bank PO, Bank Clerk, Railways and Insurance examinations. Taking this forward Testbook has also launched Testbook Online Centres and Testbook Learning Centres in 30 cities of Bihar, Delhi, and Rajasthan where a student can visit and practice exams in a Real Exam Environment. 
The founders had noticed that a large proportion of the government job exam aspirants are from tier 2 and tier 3 cities and they often face the problem of non-reliable internet connectivity and many do not have access to computers. So, Testbook came up with a hybrid model and it launched branded Online Centres with computers, internet connectivity and power backup facility for its students. It also tied up with local teachers to start 'Testbook Smart Labs'—Computer infrastructure and Online Learning facility at institute itself. Keeping in mind that a student who comes from tier 2/3 cities, "Testbook Pass" facility has been provided by Testbook which has made easy for students to buy the online test series as cash solutions for them. Students can purchase the Pass either from Testbook Online Centres (TOC) or Testbook Smart Lab (TSL) or network Bookstores and can activate the unique code printed on it in a single step on Testbook.com or from the Testbook Mobile App.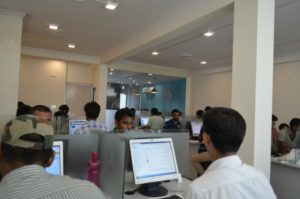 Testbook mobile App is widely loved by students all across the country. With a rating of 4.5, it is the highest rated e-learning education app on the google play store to prepare students for Govt. Jobs. The team behind Testbook.com is already working on leveraging the massive data that is being collected on the platform to make learning more personalized for students so that they can seek better guidance and improve faster. 
Amit Jain, SSC CGL 2016, AIR 1 said  "Constant improvement is possible only when we keep a track of our performance. Testbook's detailed analysis along with high-quality questions made me better and better with each test that I attempted"
"Testbook test series was very important to my success. I am benefitted by live tests, too. I have never missed a single live test and given all test series. This helped me really in time management as you can create exam-like conditions in your home. I also appreciate the quality of questions. Daily streak kept me motivated." Said Divyesh Vaghela who has cleared SSC CGL 2016 exam
"My whole preparation was based on the test series of Testbook. I relied on it completely, solved mock tests and then prepared the areas in which I lacked, " said Deepshikha who has completed IBPS PO 2017 mains exam

According to a report by Google and KPMG, the online education industry in India is poised to grow eight times to become a USD 1.96 billion industry by 2021 as an increasing number of students consume content through e-routes. This sector, however, faces high drop-off rates as many online courses are self-paced wherein there are no points of engagement, which in turn result in lower completion rates.

Our awareness level of jobs and careers are very low.  So, our job selection is often very poor. You will find that 1 million people applying for 100 open positions to hire clerks in Railways or some Govt organization.
"The lack of knowledge in terms of regarding formal education, awareness, internet etc. and also underdeveloped nature, especially in rural parts of India, people are less qualified for current Online Mode of exams. We as an organization believe in empowering each and every student who is aspiring for Government Job. Computer literacy is an important key aspect of this area. We are providing students Real Exam Environment along with computer infrastructure so that when a student sits for the online exam they should be experts with the interface used during the real exam." said Ashutosh Kumar, Co-Founder, Testbook.com.