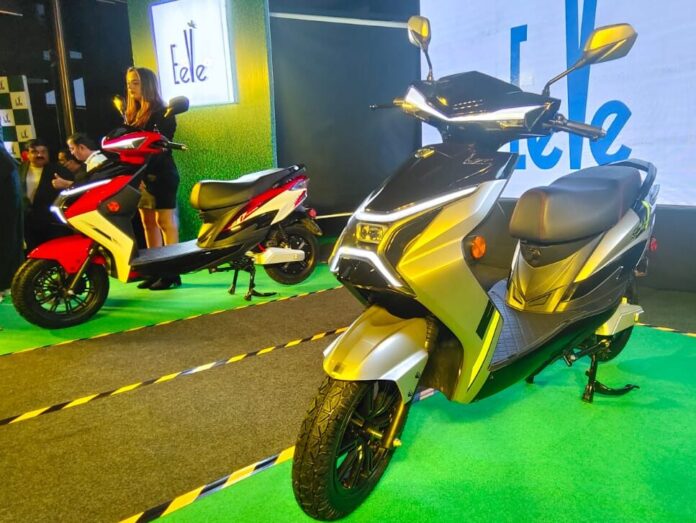 New Delhi, Dec 14, 2021: EeVe India, Forayed into the high-speed electric vehicles category with the launch of a new product in the two-wheelers category brand launched its first high-speed electric scooter 'SOUL'. The new model was unveiled at a formal gathering on Tuesday in New Delhi.

Our Tech & Automobile reviewer Mr. Pardeep Khatri reviewed the product during & after launched and found some interesting features that everyone should get to know about them. SOUL is the first electric scooter that comes with inbuild Bluetooth speakers so now no need to carry heavy-weight Bluetooth speakers in the city for the party outside. Now we gonna talk about some of the features of EeVe India SOUL.
Central Braking: Central braking system that stops running scooter quickly it takes less than 3 seconds to control the vehicle this braking system works simultaneously.
Front Telescopic Suspension: Every vehicle depend on its suspension system which gives comfort experience while driving and if the brand used a good grade suspension that delivers a nice experience.
SOUL is a fully loaded high-speed scooter equipped with smart features such as IoT enabled, anti-theft lock system, GPS navigation, USB ports, keyless experience, reverse mode, central braking system geotagging, and geo-fencing. With a three-year warranty on the vehicle, EeVe scooters are powered with advanced Lithium Ferrous Phosphate (LFP) swappable & detachable batteries which enable the user to conveniently charge the battery indoors. The scooter will take around 3-4 hours to charge from 0-100 and will have a top speed of 60kmps, with a range of over 120 km on a single charge, added Mr. Harsh Vardhan Didwania, Co-Founder & Director, EeVe India.
Mr. Didwania said, "EeVe India is working to revolutionize the electric mobility experience in India which can offer solutions to growing environmental concerns. For a future to be cleaner, safer, and sustainable, we are bringing eco-friendly electric scooters that are powered with the best sustainable solution. Our latest EeVe electric scooter is a high speed, stylish and hassle-free to helo reduce carbon footprint and burden of ever-increasing fuel prices".
On the launch of EeVe India SOUL, Mr. Pardeep Khatri asked Mr. Didwania where he will see electric scooters, and electric segments in the next five years in India?
Electric scooters are good as they do not generate any pollution they are easy to use and youth are also adopting them, Mr. Didwania adds further Global automotive industry is in the transition phase rapidly shifting towards electric mobility and India has also started to pick up the pace. Considering the demands of the present today 2-wheeler commuting experience, EeVe India aims to maximize its contribution towards this electric revolution".
Motor
BOSCH BLDC 1200W

Battery
Li-ion (LFP)
60V/36 AH
Ranger/Autonomy
120*
Tyre Size/Type
90/90-12 Tubless
Brakes
DUAL DISC
(EABS, CBS)
Payload
140 KG
Charging TIme
4-5 HOURS*
Frame
TUBULAR FRAME
Color
RED-WHITE
GREY-BLACK
LXWXH
1960″695″1150MM
www.eeveindia.com