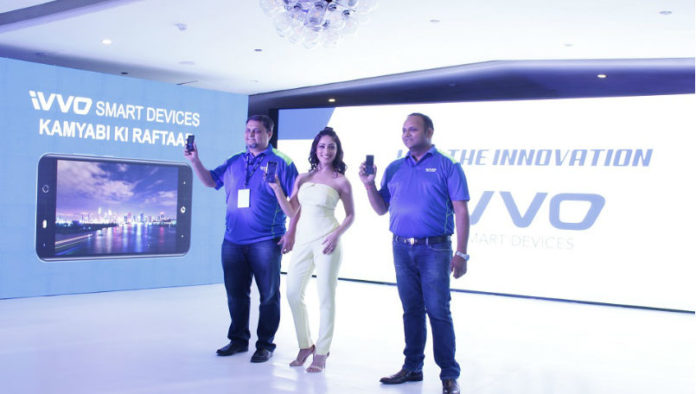 New Delhi, June 1st, 2018: Staying true to its goal of making people's lives simpler while digitizing rural India, iVVO, a pioneering communications brand and the latest entrant in the Indian mobile phone market, has now launched a smartphone-like app store for its 2G handsets. The company's parent organization, BRITZO, recently came into the spotlight for its unique business model and vision of empowering the rural population through a complete reversal of the prevalent market order with cutting-edge innovations. iVVO is taking this vision forward with the introduction of interactive applications on its feature phone offerings.
The apps on the 'Smart Store' encompass a wide range of genres such as entertainment, education, health, spirituality, and so on. At present, the Smart Store has a 'Game Centre', an 'Entertainment Store', a 'Friend Finder' & 'App Store' (for miscellaneous applications). iVVO customers will be able to enjoy a huge repository of songs and videos and other content which is refreshed daily.
 Mr. Pradipto Ganguly, CEO & Co founder, BRITZO, "At BRITZO, we've embarked on a journey that demands innovation, service attitude & inclusion at all socio-economic levels to reach our overarching goal. The entire BRTIZO workforce has embraced our vision with complete commitment and is relentlessly turning this dream into a reality. As yet another accomplishment, we're very delighted to present the 'Smart Store' to our customers, something that'll increase their daily efficiency and convenience. We are confident that this innovation is going to promote digital adoption across rural geographies in India."
The mobile phone manufacturer has six Smart 2G feature phones segmented across categories, namely BEATZ, PRIMO, SELFEE and TUFF. Its product portfolio also comprises of two upcoming Android Go-based 4G smartphones under 'Storm' series and 4G feature phone 'Skipper'. In order to facilitate more ease and convenience to its customers, the brand has established a strong after-sales service network with more than 900 targeted services centres and has a hassle free service policy on all of its devices. The objective of the brand is to drive state-of-the-art innovations in rural geographies and then make them trickle down to urban regions – contrary to the prevalent market order.