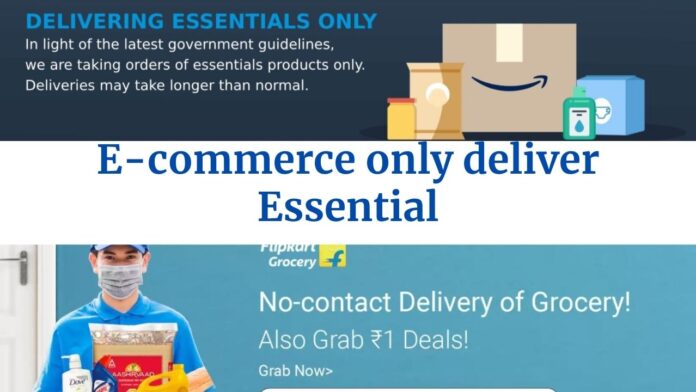 E-commerce websites Amazon. in and Flipkart, Myntra will only take essential services order till lockdown in these cities.
New Delhi and Uttar Pradesh will face some banned on products that used to be available on Flipkart and Amazon. During full lockdown from April 10:00 PM 19th to 05:00 AM, 26th April 2021, residents of New Delhi, and Uttar Pradesh, people will not get any item except essential product from the Online shopping platform.
Why it stopped: –
According to MoH affairs guidelines, all the people have to stay at home and maintain social distancing need to follow all the government guidelines, where the business and small works are already stopped and suggest to run from home. When any order placed by a customer on such an e-commerce portal after verification and payment by the company it goes to the seller, where within timelimit seller needs to pack and dispatched the parcel or product to the customer. This process needs so much human interference.
What products are not available on e-commerce and why: –
As we know on an e-commerce platform we can buy a small pin to luxury items. There is a huge list of those products that are not available during this another lockdown implemented by the government.
Electronics items like TV, Washing Machine, Air Conditioners, Kitchen Appliances, Healthy Living Appliances, Small Home Appliances, Refrigerator, and all smartphone.
Home Appliances There are thousands of products on e-commerce website which has bigger demand in comparison to the offline market. Bed Room Furniture, Living Room Furniture, Furnishing, Smart Home Automation, Home Improvement, Home Decor, Home Lighting, Festive Decor & Gifts,
What is available: –
If you are still wondering that what can you buy from an online store, we strongly suggest do not buy unnecessary things because there is no clear news when this lockdown will stop. Money will save you for further hurdles. These items are available and come under the essential product list: Grocery, Daily essentials, clothes, home items for cooking, beauty, toys, health drinks, medicines, food.
As lockdown is already started in many cities in India that can be the effect on delivery these goods to the customer, only smart planning can decrease the product delivery timing follow below-mentioned steps for fast delivery:
Order only essential products
Try to check product delivery time with different seller
Enter best nearest Hub address if you know.
Follow us on Instagram for more information.