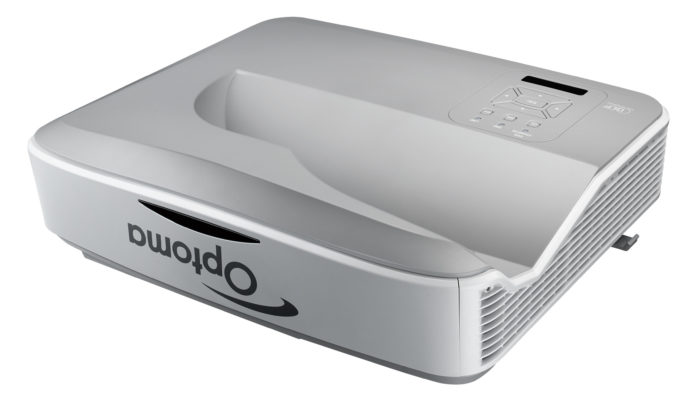 October 25th, 2017, Mumbai, India – Optoma has launched the 400UST DuraCore series, an ultra short throw (UST) laser projector series with 4,000 ANSI lumens, the highest in the UST marketplace. Available in Full HD 1080p and WXGA resolutions, this series is designed perfectly for education, corporate, and professional installations where UST projection is desired for a unique environmental requirement.
The 400UST series, unveiled at ISE earlier this year, includes four new UST laser projectors, including ZH400UST, ZW400UST, ZH400USTi, and ZW400USTi.
Equipped with Optoma DuraCore Technology and IP5X certification, the 400UST series is powered by a long-lasting, low maintenance, lamp-free, laser light source, delivering consistent, high brightness of up to 20,000 hours and superior colour reproduction with vivid images.
Supporting 24/7 operation and versatile orientation, including portrait mode and downward projection, the 400UST series offers a flexible, powerful, and bright UST projector range. It is, therefore, ideal for signage solutions where space or accessibility can be limited, such as shop windows or retail displays.
Weighing only 5.6kg, the 400UST series projectors can be ceiling mounted just centimetres away from the wall or shop window, projecting an image size of over 100 inches (254cm).
The interactive models of 400UST series – ZH400USTi and ZW400USTi – are also built with 'TouchBeam' finger-touch interactive technology feature, transforming any surface into an interactive experience. The highly responsive 'TouchBeam' supports up to 10 multi-touch points for collaborative working.
With Office Viewer functionality built in, the 400UST series allows presentations to be made by merely plug-and-play without laptop or PC.
Gordon Wu, Assistant Vice President at Optoma APAC, commented: "The 400UST series models are the lightest and brightest UST laser projectors in their category.  With 0.25 UST throw ratio, 1080p/WXGA resolution, the compact chassis, and versatile installation, this series is definitely an exemplary projector for digital signage solutions."
Key Features – 400UST series
20,000 hours maintenance-free laser light source at full brightness
Dust resistant – Independently tested, IP5X certification for total reliability
4000 ANSI lumens fixed lens ultra-short throw 1080p/ WXGA
Supports portrait and downward projection
Model Summary
1080p
WXGA
ZH400UST
ZW400UST
ZH400USTi
(interactive version)
ZW400USTi
(interactive version)
For more information, please visit the Optoma website:asia.optoma.com
For more information on the ZH400UST, visit the official product page at:http://asia.optoma.com/projectorproduct/zh400ust
For more information on the ZH400USTi, visit the official product page at: http://asia.optoma.com/projectorproduct/zh400usti
For more information on the ZW400UST, visit the official product page at: http://asia.optoma.com/projectorproduct/zw400ust
For more information on the ZW400USTi, visit the official product page at:http://asia.optoma.com/projectorproduct/zw400usti
View More News at CyberMedia Press Center: http://www.cybermedia.com.tw/news