Today Mumbai, 19th February 2021 – Syska a leading electronic accessories Brand, and mobile accessories segment as well, offering innovative and unique products. Today announced the launch of the Syska P2024J Power Bank has Dual Input Ports – Micro USB and Type-C for easy charging options which will be exclusively available for purchase on Flipkart. A power bank is an ideal option for charging all sets of smart devices and smartphones, Earbuds, tablets. Syska mobile accessories offer a wide range of useful products such as wireless speakers, wireless headsets, wireless earphones, car chargers, and others.
P2024J New Power Bank
We have shared earlier the OnePlus smart power bank it has 10,000mAh battery storage read here for more. Syska P2024J zoom charging power bank consists of a steady capacity of 20,000mAh with a sleek metal finish. With the spike in work from home accessories, Syska has been striving to offer consumers innovative products that help make work-life more comfortable and seamless. The power bank charges multiple smart devices simultaneously with a uniform fast charging speed and offers a safe current supply through its 12-layer chip protection.
Views of the Skyska Team –
Commenting on the launch of the P2024J power bank, Mr. Gurumukh Uttamchandani, Executive Director, Syska Group said, "At Syska, we have always conducted in-depth market research to gauge the requirements of our large consumer base. As a company, our aim is to meet the necessities of our customers by offering the best products which are examined for quality and reliability and are equipped with the latest technology. The latest Syska P2024J Power Bank has been manufactured in India for consumers who are on the lookout for a compact power bank with an uninterrupted power flow that presents a smooth charging experience. This charger is the complete solution for everyone out there."
Syska P2024J Power Bank is priced at Rs. 2499/- but will be available at a very interesting introductory price of Rs. 1,099/- only on 19th February 2021 from 12 pm to 12 am during the Flipkart flash sale across three colors Midnight Blue, Blazing Red, and Pearl Black.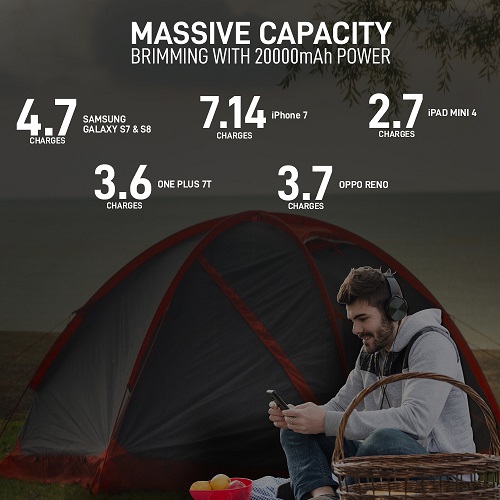 The Syska P2024J Power Bank comes with a 6-month warranty against any manufacturing defects. The warranty will be effective from the date of purchase of the product. A fast-charging Type-C cable is given as an additional accessory in the same box for better performance and the product is compatible with multiple devices.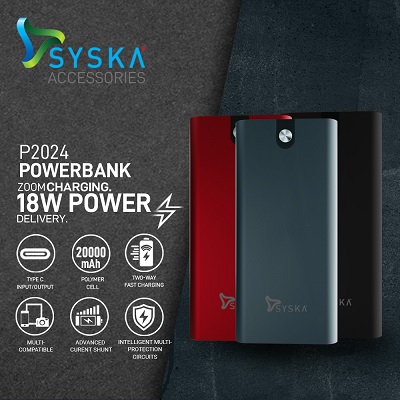 12 layers of protection Syska has built the power-bank with 12-layers of intelligent protection, which ensure the safe passage of currents both ways and protects the user from experiencing any kind of short-circuits and malfunctions.

We have seen many power banks but from a user perspective, this P2024J has the power to redefine the future of power banks. Now you may ask why? It multi-device charging feature at the same time all the device receive an equal output and fastens the velocity of the current to charge connected devices quickly when performing a simultaneous charge. Flash Sale will down the price of other brand's value as well in the Power bank segment, there are more than 10 companies are selling power banks in India but Syska can take advantage of Local for vocal movement.
Read Next Story!!