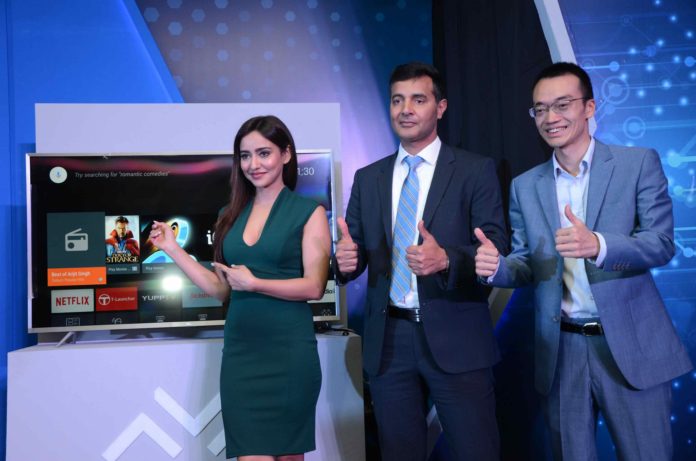 Today, April 26, 2018: In a game-changing move which could potentially redefine how Indians consume new-age entertainment content, TCL Multimedia, one of the top-three TV manufacturers in the world, has launched its India-centric smart TV brand iFFALCON in the market through its exclusive association with Flipkart. TCL also showcased two stunning smart TV offerings, iFFALCON 55K2A powered by Android 7.0 Nougat and iFFALCON F2, at the grand event.
Through iFFALCON, TCL aims to upgrade the home entertainment experience for viewers across the country by giving them seamless access to their choice of entertainment, whether online or offline. Operating at the intersection of high-quality content, smart technology, and powerful hardware, iFFALCON provides the most fulfilling and enriching entertainment experience to its users by delivering the ultimate audio and visual spectacle.
Power, precision, performance for a matchless entertainment experience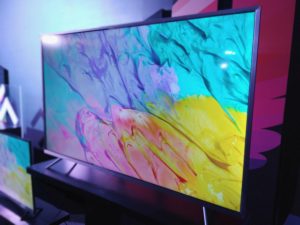 What makes iFFALCON's launch such a landmark development is how TCL has customised the cutting-edge, market-leading solutions of its smart TV sub-brand FFALCON for the Indian market. It also marks the first time a smart TV range equipped with Android 7.0 Nougat has been introduced in India. TCL's renowned vertically-integrated manufacturing capabilities ensure that everything – from backlight and module to display, set, and panel – is produced in-house to meet and exceed global quality standards. This promise of superior quality is backed by the proven manufacturing prowess of TCL-owned CSOTTechnology, a world-leading enterprise in display technology that ranks fifth globally for LCD panel shipments.
iFFALCON's high-quality products are equipped with the latest technology and are supported by the strong background in global smart TV operations and service localisation of its parent company. Heavy investments into advanced technologies such as 5G, big data, and artificial intelligence made by TCL enable iFFALCON to provide users with direct access to personalised content. Through its robust partnerships with leading content providers such as Jio Digital, Netflix, Google Play Movies & TV,Youtube and ErosNow , Yupp TV, Flickree. iFFALCON also offers its customers with a rich and diversified content library for a more immersive entertainment experience. Its unique brand proposition is further augmented by its robust sales channel integration with Flipkart, one of India's leading online marketplaces.
Speaking on the launch, Mr Tony Guo, Global CEO – FFALCON Technology, said, "With the demand for smart home entertainment solutions in India growing at a rapid pace, the country's smart TV market is in need for more technologically-evolved offerings. The launch of iFFALCON smart TVs will fulfil this need-gap. We are bringing the latest entertainment technology to India for fulfilling iFFALCON's brand promise of enabling an 'Incredible Smart Life' for every customer."
Mr Harry Wu, GM – TCL Multimedia Overseas Business Center, said, "With iFFALCON, TCL is further strengthening its leadership position in the India market. Our long-term vision is to bring the latest entertainment technology to the Indian youth and become the go-to brand for smart products. The launch of iFFALCON will help us achieve this aim."
Mr. Ajay Yadav, VP, Flipkart said "We are committed to bringing the best in class technology products for customers to constantly keep them excited. Our exclusive partnership with iFFalcon, by TCL, offers a range of TVs that ensure an immersive experience backed by the latest in entertainment and technology. We are confident TVs from TCL would be another best seller on Flipkart, while we continue to be India's most trusted destination for TVs" "
The iFFALCON launch further strengthens TCL's position as a leader in the smart consumer electronics domain, both in India and on a worldwide scale. The company is currently ranked no.3 in the LCD TV segment with 10.3% of the global market share. It surpassed its annual sales target in 2017 by selling more than 23 million TVs to register a year-on-year sales growth of 16.4%. TCL has also sustained its spectacular growth momentum in the Indian market as well, with its full-year sales volume in the country surging by 121.5% to cross 100k units. In 2017, TCL Multimedia's turnover surpassed HK$40.00 billion for the first time in its history, hitting a historic high of HK$40.82 billion and representing a 22.4% year-on-year increase.
iFFALCON 55K2A: A 4K UHD Google-certified Android TV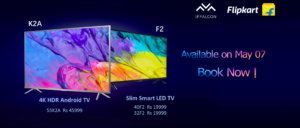 What's large-screen entertainment without ultra-high definition picture clarity? This seems to be the main thought behind iFFALCON 55K2A, the flagship offering from iFFALCON. The 4K UHD TV comes equipped with 3,840 x 2,160 pixels. By enabling an accurate reproduction of light and dark shades through HDR, iFFALCON 55K2A elevates the viewing experience to the next level.
iFFALCON 55K2A also comes equipped with Micro Dimming technology and revolutionary features such as white LED HD backlight – a landmark development in LED HD backlight technology which drastically enhances the colour gamut and provides more dynamic colour contrast. It also has Dolby 5.1 Surround Sound and advanced DTS post-processing technology to ensure sound quality which rivals a top-of-the-range stereo system. Its Smart Volume feature automatically adjusts the volume to eliminate sudden sound fluctuations typically experienced when switching channels or when television commercials air, while also automatically detecting the type of content you are watching – sports, news, movies, etc. – and adjusting the sound setting to it.
Powered by Android 7.0 Nougat, iFFALCON 55K2A offers multiple advanced features such as task switching, picture-in-picture, and in-built Google Chromecast to users. It also allows users to install apps from other devices through its multiple platform sync feature, in addition to enabling sign-ins from several Google accounts. Users also have the option of using Google Voice Search by simply pressing a button on their remotes and giving a voice input, thus eliminating the need for complicated navigation and tiresome typing. With a full suite of Google services customised for iFFALCON 55K2A, the Google-certified Android TV is poised to become a single-stop tech solution for fulfilling the varied entertainment requirements of the country's growing and vibrant young consumer base.
iFFALCON 55K2A is powered by a powerful quad-core CPU and dual-core GPU, and has 2.56 GB RAM and 16 GB internal storage. The powerful processing that this enables allows for seamless and hassle-free multitasking, as well as instant power on within two seconds. While a 2.4 GHz+5GHz dual-band WiFi enables seamless online streaming, iFFALCON 55K2A also minimises power consumption. Entertainment apps such as Hotstar, YouTube, Netflix, YuppTV, Google Play Movies & TV, Eros Now, and Voot are available for download through the Google Play store on iFFALCON 55K2A, while JioCinema comes preinstalled with each set. This enables iFFALCON users to watch their choice of movies, shows, music, sports, videos, and more at a single place!
iFFALCON F2: A next-level viewing experience
Designed to heighten the entertainment experience of Indian viewers, iFFALCON F2 comes equipped with features like Full HD and Micro Dimming technology. The latest generation of iFFALCON LED HD backlight enhances the colour gamut and provides dynamic contrast.
And that's not all! The latest version of the App Store on iFFALCON F2 provides a comprehensive range of downloadable content from over 500 applications ranging from video-on-demand, social, gaming, music, and photo sharing. It comes preinstalled with Netflix, one of the biggest online streaming platforms in the world. Adding yet more immersion to the mix, iFFALCON F2 has T-Cast, an integrated feature exclusive for iFFALCON TV which allows users to operate the TV via their smartphones.
iFFALCON F2 also comes with Dolby decoder and supports a variety of audio and video formats, including the latest coding system, from the antenna to the USB and other input channels such as H.264/MPEG4/MKV/AVI/MP4 video coding. Equipped with comprehensive safety features such as lightning protection, fast heat ventilation, and wide voltage range, it consumes significantly lower power and is moisture-proof. iFFALCON F2 comes in two configurations, the 40-inch variant 40F2 and the 32-inch variant 32F2.
Pricing and booking: iFFALCON's first three models will be available for purchase from May 7. iFFALCON 55K2A will be available at INR 45,999, while iFFALCON 40F2 and iFFALCON 32F2 will be priced at INR 19,999 and INR 13,499 respectively. To make the deal even sweeter, all three iFFALCON models will come with a bundled cashback offer with JioFi data card.Stay tuned and know more details on Flipkart iFFALCON brand store.