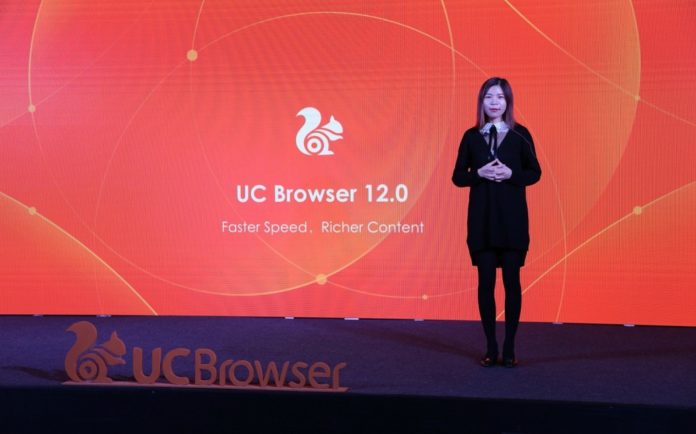 New Delhi, February 07, 2018: UC Browser, a flagship product of UCWeb, an Alibaba Mobile Business Group company, has announced a new version of its popular browser in India. UC Browser 12.0, upgraded to support faster video content consumption on mobile, now consumes 50% less data and buffers with zero time lag. Registering another major milestone, UC Browser has crossed 130 Million Monthly Active Users (MAUs) in India as of January 2018.  UC Browser, with a leading market share of over 43% as per StatCounter, is the sixth-most downloaded app in India and the only one in the top 10 that is not a social media or entertainment App, according to reports from Mary Meeker and Kleiner Perkins.
Addressing the media on her visit to India, Shallia Li, Head of UC Browser (International Business Department) at Alibaba Mobile Business Group said,"UCWeb has always been dedicated in making content easily accessible for users, even when they are in limited bandwidth area. With evolving user demands, we are also upgrading our technology. Our data compression technology now provides a 'No buffering' video watching experience. Our vision of "Content for everyone, Every Content for One" is making content accessible for users regardless of network infrastructure and mobile hardware type while also personalizing and customizing the content as per user's preference."
Content consumption on UC Browser has been on a steady rise. The browser has witnessed 50% growth in page views on UC Browser' news feed from 2nd Quarter to 4th Quarter in 2017 in both India and Indonesia markets.  Keeping this in mind, UC Browser has upgraded from a traditional tool-plus product to a content distribution platform powered by big data technology. It provides Indian users with numerous content of diverse genre in the form of photo, text and video. UC Browser's 'Be Smart' feature uses big-data technology to cater to user's demands with personalized recommendations and rich content.
Within the content stream, video remains the most popular category. According to App Annie's report on State of Video streaming Apps in Asia, the total data usage in top video streaming apps in India saw a big surge of 165% from H1 2016 to H1 2017, surpassing other markets like Thailand, South Korea and Japan.  UC Browser also registered 60% growth in video views from Q2 2017-Q4 2017 in India and Indonesia markets, making it the most popular user activity on the platform in 2017.
UC Browser 12.0 gives users a refreshing experience with its new features and will now make video watching more joyful. The users can save over 50% internet data while watching videos, which can play without buffering and can be watched while it is downloading. There is automatic switch definition and a video preview feature as well. The new version guarantees better viewing experience for lower-end phones. It optimizes video loading and downloading of top sites and pre-loading of video information flow. With the addition of the Smart Weather and Smart Zodiac Signs feature, browsing is now more personalized.
Top features of UC Browser 12.0:
–        Save 50% data – The new UC Browser supports latest video coding format, VP9 Codec, helping save up to 50 % data as compared to the last version, while returning the same video quality
–        Flexibility of switching definition – The upgraded browser supports new Media Source Extensions, introduced by World Wide Web to facilitate video streaming on websites. It will help optimize pre-loading of video on website and switch the definition automatically under different network situations
–        Watch videos while downloading and Video previews – The updated browser gives users a "no buffering" video experience. Viewers can also click "Play" and watch video simultaneously while it is downloading. Further, user can easily get a preview on a thumbnail by clicking the video and decide whether to continue watching before downloading the whole clip
–        Smoother browsing experience – UC Browser now runs on the upgraded core U4 Kernel, which allows for faster page loads without draining the RAM of the device. This helps with providing a fast and smooth browsing experience, even for users with budget phones that have RAM as low as 1-2 GB
–        Smart weather and Smart Zodiac – The updated version has added two customized functions – Smart Weather and Smart Zodiac Signs. Now the browser will remind users about the weather forecast and horoscope prediction of the day
–        Supports Multi-tasking – User can now continue to watch a video and browse simultaneously – the video plays in a small window
–      UC Browser 12.0 tackles CPU Exploits – UC Browser 12.0 addresses concerns regarding the recently-disclosed CPU exploits. The new version contains mitigations against Spectre, recently-discovered vulnerability that is affecting a number of processors around the world