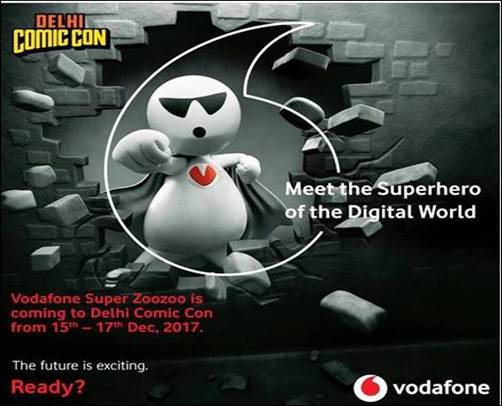 New Delhi, 14th December 2017: The much-awaited Comic Con 2017 will see one of the most unusual Superheroes make its debut with a bang!! Vodafone India brings Super Zoozoo to this annual congregation of the comic superheroes – the first ever corporate mascot to be inducted into the league of Superheroes of the Comic World.
Super Zoozoo is an embodiment of the super experiences that Vodafone has always aimed to provide to its customers. With a Wikipedia page of its own and a fan following that surpasses age groups – Vodafone Super Zoozoo is being showcased as the new saviour of the 'Digital world'.
At Delhi ComicCon 2017, Super Zoozoo will be seen engaging with the audiences through various augmented reality activities. Visitors will get a chance to win an interesting set of merchandise with Zoozoo collectables, entirely created for the event.

Speaking at the Delhi Comic Con 2017, Mr Alok Verma, Business Head – Delhi & NCR, Vodafone India, said: "Super Zoozoo is symbolic of Vodafone's 'Readiness' to equip and empower its customers to stay connected with the Digital world. With the biggest pop culture festival – Comic Con 2017, we aim to engage with the youth in the Comic World with the debut of our Digital Superhero who has been everyone's favourite since its launch back in the year 2009".
Comic-Con Delhi is one of the biggest pop culture events that the city will witness. It boasts the best cos-plays, gaming zones, fan nights, meet-and-greet sessions, drool-worthy march, and even stand-up comedy acts.