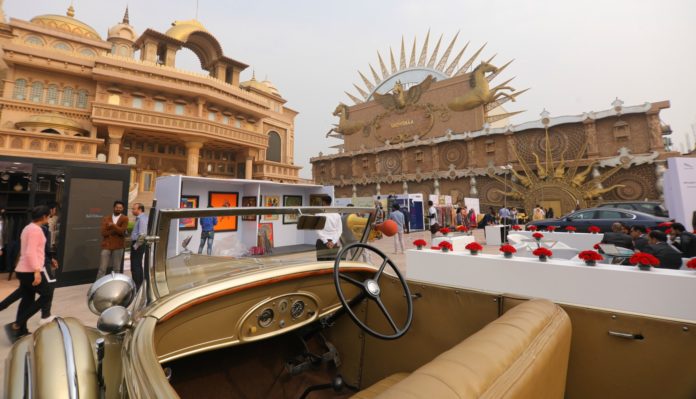 Gurugram, 18th November, 2017: Redefining the wave of luxury and opulence in the city of Gurugram, The Indian Luxury Expo (TILE) made its impact felt across the length and breadth of the city.  Ongoing in the pride of Gurugram- Kingdom of Dreams, on 18th to 19th November 2017, the high-octane luxury extravaganzas presented a batch of successfully curated products, exclusive launches and previews, and bespoke pop-up experiences. The first day was marked with a slew of events alongside showcases, to increase the engagement and enjoyment quotient of the expo.
Prominent brand categories participating in the event included travel, fashion accessories, jewellery, real estate, hospitality, art & collectibles, apparel, home décor and luxury automobile brands. Some noteworthy luxury brands that participated in the Gurugram event were Jaguar and Land Rover, Gitanjali Nakshatra Diamonds, Hand painted stories, Think Tonk, Tie Hub, Mr. Fox (Bespoke), Mahindra Lifespaces, Grohe, Shobha developers, Raymond made to measure, The Smoke company, INV Homes, Ford Mustang, Embassy, Amex, DAG, Porshe, Gallerie Splash, Kawasaki and Harley Davidson, to name a few.
A successful book launch of She & He by engineer-turned-author Astha Mittal—a compassionate tale portraying the various emotional stages in a man-woman relationship, and how incomplete are they without each other, rousing the intellectual quotient. Moderating the book launch was Anu P Dhawan- a stalwart herself, being the CEO of Corporate house A4A, as she spoke about the importance of creating a viable lifestyle for the youth to imbibe and emulate.  Breathtaking artworks by renowned artist Ram Indranil Kamath, which help in understanding the link between Hinduism and Hindutva, were also exhibited at the event. A spell-binding after party was held where the visitors were seen hobnobbing with the cream of the luxury realm.
Having managed to pull off a spectacular luxury show, Karan Bhangay, Founder, The Indian Luxury Expo said "We are delighted to see the fervent participation of different industries at the event this year. Gurugram is known for having a keen demand for luxury, owing to the standard of living enshrined by its citizen. The city brought forth a wonderful opportunity to display our curated set of brands, for the discerning audience Celebrated brands across industries participated and partnered the Gurugram expo, clearly indicating a growth of interest and consumer sentiments attached to this sector," he said.
Luxury consumption spearheading a country's economy undoubtedly reflects its affluence and taste. India is set to become the world's fastest wealth creator in the coming years. Realizing the increasing importance of the country in the global luxury industry, The Indian Luxury Expo endeavours to bring the top-notch luxury brands and the connoisseurs under one platform.