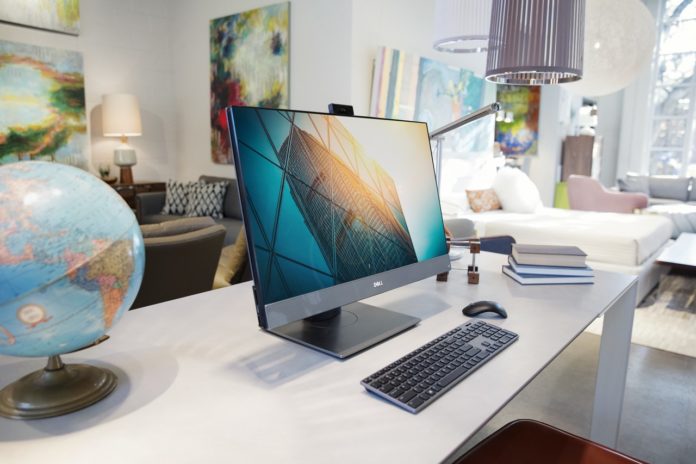 New Delhi, 14th June 2018: As OptiPlex completes its 25 years of consistently adapting and delivering customer-led innovation,  Dell in India today announced the launch of a new family of OptiPlex All-in-Ones (AIO) and OptiPlex Family Towers that provide powerful solutions in a consolidated, elegant design. Featuring versatile, space-saving form factors and 8th generation Intel® Processors, this new line-up of All-in-Ones from Dell are reimagining the desktop to help businesses unleash their full potential. The new OptiPlex portfolio of towers and All-in-Ones are built on a legacy of power, versatility and reliability – a supreme need of businesses, today.
Earlier this year, Dell globally introduced new solutions across its commercial PC portfolio designed to help businesses of all sizes achieve that critical balance. Known for being the world's most secure and manageable commercial PCs, Dell's new commercial lineup features advances in smart design, productivity and sustainability to meet the ever-expanding needs of a global, diverse workforce.
Commenting on the launch, Indrajit Belgundi, Director and General Manager, Client Solutions Group at Dell India said, "Desktops are leading form factors for businesses in India and Dell has been a consistent leader as indicated by IDC for All –in-ones in Q1 CY18. Dell identifies desk-workers as a major workforce persona – one that needs reliable, secure and innovative machines that respond to their business needs. Of Dell's 33 year legacy, OptiPlex has been around for 25 years – constantly evolving and creating immersive experiences for its users. From public to BFSI, desktop is truly king. We believe that desktop business with continuous innovation and heightened dependability, will keep advancing in growth."
The following portfolio of OptiPlex products are being announced:
OptiPlex 7760 AIO is a powerful 27-inch InfinityEdge with optional glare-free 4K Ultra HD with HDR and High-Gamut sRGB or Full HD IPS with touch display, next-generation discrete graphics and quad mic array with Waves Maxx technology- giving way to crystal clear sound at distances up to 12 feet. It offers 80 PLUS internal Power Supply Unit with optional 200W EPA Platinum and comes loaded with Intel Integrated HD Graphics 630 and an optional NVIDIA GeForce® GTX 1050, 4GB
OptiPlex 7460 AIO comes with a 23.8-inch InfinityEdge display providing an overall smaller footprint while optimizing screen space with edge-to-edge Full HD IPS display technology and numerous port options. The AIO also offers a 2.5 inch 2TB 5400rpm SATA Hard Disk Drive, optional Intel® Optane™ Memory 16GB and dual storage and RAID support. In addition, Dell is offering consumers with an optional 2.0MP 1080P FHD or Infrared Pop-up Webcam that supports Windows
OptiPlex Tower, Small Form Factor and Micro desktops are packed with 8th Gen Intel® Core™ processors and up to 64GB of DDR4 memory for the versatile workforce of today. The OptiPlex XE3, available in Tower and Small Form Factor, is an industrial-grade desktop with enterprise-class performance, combining reliability and durability to meet the needs of industries including healthcare, retail and manufacturing, while also offering an OEM-ready design. The XE3 can operate in extreme temperatures and is resistant to shock and vibration, and is available with optional dust filters
The OptiPlex 7060 and 5060 Tower, Small Form Factor and Micro desktops offers power-packed performance, easy scalability and integration for any workspace, thanks to the next-generation AMD, Integrated Intel HD, Dual AMD Radeon, NVIDIA graphics options that can power up to three monitors simultaneously. A sustainably built, MIL-STD 810G tested form factor plus lockable cable covers and chassis intrusion switch helps make work seamless and hassle-free
The OptiPlex 3060, the business desktop is a compact system, for a clutter-free workstation. Available in Tower, Small Form Factor and Micro form factors – with multiple mounting options, this tool-less designed system offers up to 32GB DDR4 memory. Designed for enterprise-class performance; these combine reliability and durability so that efficiency is unlimited when desktops work flexibly. It supports Dell Data Security and TPM 2.0 to keep your work secure, enhanced by lockable cable covers & optional chassis intrusion switch
For a modern workforce that desire utmost level of data security, not only at rest but also on-the-move, begins with a trusted device. With the latest OptiPlex portfolio, Dell has also cemented its leadership in data and endpoint security through new enhancements to Dell Data Guardian and Dell Encryption.
Dell Data Guardian now includes added support for an organization's existing data classification structures that delivers enforcement and controls beyond a company's network. It also protects many file types, including in-house, proprietary applications, in addition to standard Office and commonly-used file types like PDF. Organizations can also safeguard their most critical files by setting access permissions inside or outside IT ecosystems, adding on-screen watermarks for an additional level of security, and enabling controls that extend to file usage and sharing.
Many organizations maintain heterogeneous IT environments made up of several brands, operating systems and generations of PCs. To help ensure data is secure across these mixed environments, Dell Encryption is a flexible data-at-rest solution that's now available in a choice of file-based or full-disk encryption—or both for a dual encryption solution.