COLLECTION  PREFACE – INSPIRATION:
Our AW'19 collection is an inspiration from the thought – "The beautiful Lifestyles that we have created and enjoying by imprinting a rather devastating and catastrophic impact on our Environment and its Natural resources leading to cease its own Existence".
 "We are in Charge-Now" as our collection expresses is how we would like to remind ourselves at least on our stand against the Earth's Questionable future as we are experiencing it today and calls for a conscious effort in using the materials that has the least impact on earth if discarded.
We see it should be more of a practice than an ideology. And we strongly feel, it's time now to take Re-usability/Sustainability up as primary focus and implement as part of our Design creation and our overall business operations. It has become  intrinsic to Fashion now more than ever. It is the need of the hour as this is the way the fashion should pave its way out for future, as it helps reduce the waste and chemicals generated every year to support the clothing industry.
COLLECTION  NOTE:
As an ode we have taken efforts to use the elements of the Nature's Beauty from its original existence to its current diminishing stages of Grey to the Black Future. We used Colors of the sky, patterns of Oceans Shore, Life forms be it land, or aquatic animals and incorporated to Design our AW'19 collection aesthetically using Pet-Bottle yarn fabrics, hand-woven Fabrics, natural and pure yarns  and tried to present it by adopting these features through Printing –  our forte, block printing, hand embroidery, Silhouettes, Colors and Textures as Fun and energetic. The colors used in this collection reminiscent and zealously sustain the far-fetched Nature's Original existence and its questionable Future in our designs. For us, Fashion is sustainable ready when it retains the beauty by keeping its art alive and has the least impact on earth.
HADITH – a desert storm by Diksha Khanna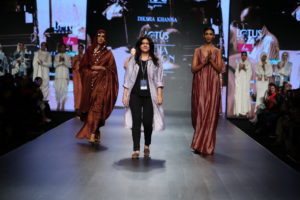 The mysterious, narrow bylanes serpenting through Doha and Oman, can be imagined in yellowing history books as they reveal, there is more than what meets eye.
 Imagine this interpreted through the prism of Zari as it meets Khadi and Denim this season. Three elements that are disparate, yet they amalgamate seamlessly, almost becoming soulmates.
 The meandering pathways through souks, and the multisensory overload of travelling through these Arab provinces inspires the Autumn Winter 2019 range of womenswear.
An intriguing mix of the ancient and the uber-modern, the pockets of bygone eras in the urban centres are like time capsules, where one can disappear for a bit, then return to the present.
Traditional costumes and nuances are interpreted in the shapes and detailing within the androgynous range, sharply contrasted by unusual textile
We as brand believe in pushing the proverbial envelope and creating a distinct space for the future. That's why Denim and chunky knits receive a dramatic Eastern touch; the experimental layering of separates is a new-age offshoot of the local way of dressing.
 crocheted patchwork textures, cross stitch embroideries and decorative elements embody the heady treasures that are found in the bustling bazaars.
The aromatic evenings are imagined in a spice colour palette: denim receives a glamorous makeover, flavoured with a sensuality that reflects the spirit of the millennial Arabian woman who speaks her mind.