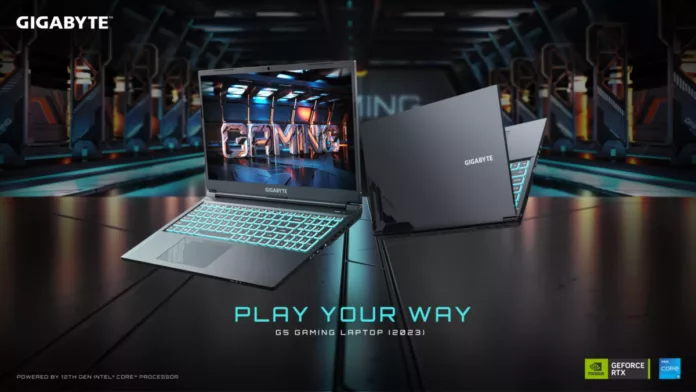 GIGABYTE has launched a new range of laptops that cater to the gaming and creative market. Team of Tech Love attened the launch in person at Gurugram. The AORUS, AERO, and G5 series are power-packed with advanced features that deliver an unbeatable performance experience for gamers and creators. These laptops come equipped with the latest 13th Gen Intel® Core™ processors and NVIDIA GeForce® RTX™ 4070 Laptop GPU, making them a perfect choice for individuals who wish to take their gaming and creative work to the next level.
The AORUS 17 and AORUS 15 laptops are designed for those who are always on the move. These super-portable gaming laptops come with up to Intel® Core 13th Gen i7 H series processors and up to NVIDIA GeForce® RTX™ 4070 Laptop GPU, which has a TGP of 140W. These laptops offer high-performance features that can handle any workload, whether you are gaming or working. Additionally, the AORUS lineup provides 17.3 and 15.6-inch displays with up to QHD resolution and a maximum refresh rate of 240Hz for an immersive visual experience and fluid framerates.
Mr. Sunil Grewal, Director of GIGABYTE Technology India Pvt. Ltd., stated that the brand has recognized the potential of the gaming market in India. He further added that GIGABYTE is committed to providing creators, gamers, and streamers with the right tools to fuel their growth and success. The latest laptops from GIGABYTE cater to all their needs by providing peak performance in a compact package, enabling them to excel in their craft.
The AERO 14 OLED has received significant upgrades in terms of performance and craftsmanship, weighing only 1.49kg. It now comes with up to 13th Gen Intel® Core™ processors and NVIDIA GeForce RTX™ 40 Series Laptop GPUs, making it an excellent choice for creative workloads. The laptop is NVIDIA Studio certified, ensuring stable and optimized performance, and features a 2.8K QHD+ resolution display with a 16:10 aspect ratio for maximum screen space.
The G5 series is designed for mid-range gaming, featuring a 12th Gen Intel® Core™ i5 processor paired with NVIDIA® GeForce RTX™ 40 Series Laptop GPUs and a 144Hz high refresh rate display. The new G5 Range is 22% smaller and lighter than its previous generation, making it highly portable and efficient.
All the laptops come with GIGABYTE's WINDFORCE cooling technology, ensuring efficient and quiet cooling while also making the laptops more compact and portable for on-the-move operations. In conclusion, GIGABYTE has set a new standard in the industry with its latest range of laptops, providing gamers and creators with unparalleled performance, superb craftsmanship, and optimized portability.
Details of devices available in India are enclosed below:
| | | | | |
| --- | --- | --- | --- | --- |
| Model Name | GPU | CPU | RAM | Price in INR |
| AORUS 17 BSF | NVIDIA GeForce RTX™ 4070 | Intel® Core™ i7-13700H | DDR5 4800 8Gx2 | 179,599 |
| AORUS 15 BKF | NVIDIA GeForce RTX™ 4060 | Intel® Core™ i7-13700H | DDR5 4800 8Gx2 | 169,990 |
| AORUS 15 9SF | NVIDIA GeForce RTX™ 4070 | Intel® Core™ i5-12500H | DDR5 4800 8Gx2 | 158,999 |
| AORUS 15 9KF | NVIDIA GeForce RTX™ 4060 | Intel® Core™ i5-12500H | DDR5 4800 8Gx1 | 124,999 |
| AORUS 15 9MF | NVIDIA GeForce RTX™ 4050 | Intel® Core™ i5-12500H | DDR5 4800 8Gx1 | 111,999 |
| AERO 14 OLED BMF | NVIDIA GeForce RTX™ 4050 | Intel® Core™ i7-13700H | LPDDR5 6400 16GB | 169,999 |
| AERO 14 OLED 9MF | NVIDIA GeForce RTX™ 4050 | Intel® Core™ i5-12500H | LPDDR5 5200 16GB | 151,999 |
| G5 KF | NVIDIA GeForce RTX™ 4060 | Intel® Core™ i5-12500H | DDR4 8Gx2 | 107,999 |
| G5 MF | NVIDIA GeForce RTX™ 4050 | Intel® Core™ i5-12550H / Intel® Core™ i5-12450H | DDR4 3200 8Gx2 | 99,999 / 90,999 |
Price List of Gigabyte Gaming Laptops