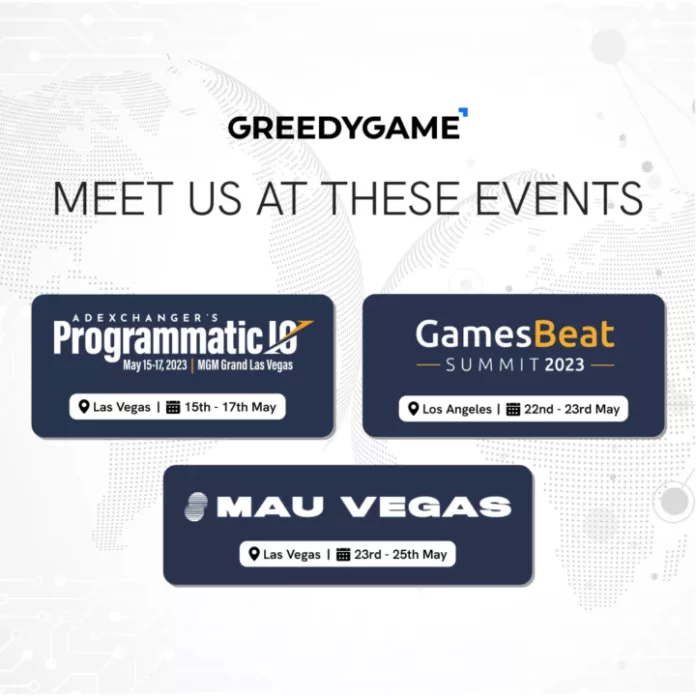 New Delhi, 10th May 2023: GreedyGame, an ad-tech platform that helps app and website publishers monetize, acquire users, maximize revenue, and gain valuable insights, is announced its participation in three significant events taking place in the United States in May 2023. The GreedyGame team will be present at Programmatic I/O, GamesBeat Summit, and MAU 2023, where they will showcase their cutting-edge offerings and demonstrate how they can benefit both publishers and advertisers. 
"We are excited to participate in these three major events in the US and showcase our innovative solutions," said Arpit Jain, CEO and Founder at GreedyGame. He further added, "Our team is dedicated to providing publishers and advertisers with top-notch solution-driven tools that drive revenue and deliver exceptional user experiences. We come with a track record of working with global premium demand in both local and global markets, which gives us a unique edge in bolstering unsold ad inventory, resulting in a significant increase in revenue for developers."
Programmatic I/O, organized by Ad Exchanger will be held in Las Vegas from May 15th to 17th, 2023. At this event, GreedyGame's team will highlight their flagship platform 'PubScale.' Publishers and advertisers can discover how PubScale can optimize revenue and enhance user acquisition campaigns. With easy technology integration, GreedyGame empowers businesses to increase their ad revenue by up to 40% and achieve an average fill rate of 95%.
GamesBeat Summit, an influential gathering of industry leaders, will take place in Los Angeles from May 22nd to 23rd. GreedyGame will showcase its solutions for in-game advertising, illustrating how it can effectively monetize games for publishers. By leveraging GreedyGame's expertise, developers can maximize their revenue streams while providing a seamless and engaging experience for gamers.

MAU Vegas, a premier event focusing on innovative learning and networking opportunities with top mobile brands, will be hosted in Las Vegas from May 23rd to 25th, 2023. At this event, GreedyGame will present its advanced mobile advertising solutions, enabling businesses to acquire and retain users more effectively.
GreedyGame's PubScale has already enabled over 5000 apps, websites, and games to scale and generate revenue from their content. Today, it boasts over 15 premium demand partners. These events will provide an opportunity for the publishers and advertisers to also learn how to increase their eCPM by up to 40% and gain access to ad revenue optimization strategies. Additionally, GreedyGame provides consultation on policy violations to ensure that publishers are always in compliance with relevant regulations.
To learn more about GreedyGame's offerings, meet the team at Programmatic I/O in Las Vegas, GamesBeat Summit in Los Angeles, and MAU Vegas in Las Vegas and discover strategies to optimize ad revenue and user acquisition campaigns.