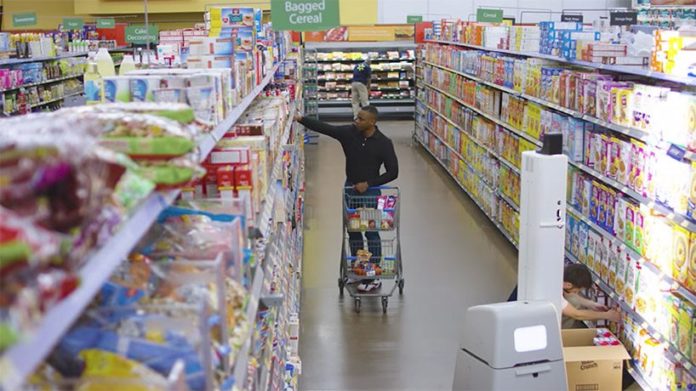 New York – Self-driving cars haven nott fully made their way to Main Street, in part, because of the unpredictable conditions and occurrences on everyday roads. But a more controlled and mappable environment exists in the everyday supermarket or big box store, where autonomous vehicles (robots, really) are already cruising the aisles.
At the recent  (NRF) trade show in New York, several examples of autonomous robots were on display. Inside Intel's booth, the Bossa Nova Robert scanned mock store shelves to identify missing products and track inventory.
Currently deployed at 50 Walmart stores, the robot uses 2D and 3D depth-sensing cameras, along with multiple sensors to capture items with radio frequency identification (RFID) tags and invisible barcodes.
FILE – Sophie Li of Cupertino, California, offers to dance with a K5 robot made by Knightscope Inc., at Westfield Valley Fair shopping center in San Jose, California, June 26, 2017. In Silicon Valley, people can eat a pizza made largely by a robot, have hotel toiletries delivered by a robot, drink a frothy cappuccino made by a robot and shop at a mall with robot security.
​How we shop
Real-time analytics are one way retailers are responding to the way consumers shop today.
"As we move forward with retail, with this click-and-collect or buy-at-home-and-pick-up-in-store, you need to have an accurate inventory," said Alec Gefrides, general manager of transactional retail at Intel.
Gefrides said the technology allows retailers to adjust stock accordingly and better serve customers.
"They can say, 'Yes, you can come into the store and pick up a new pair of jeans that you've just bought online.'"
The emphasis on seamless and frictionless shopping experiences remains a key theme in the retail sector.
"Customers don't think in terms of channels, they don't make a distinction between e-commerce and online and mobile and the store. They want it how and when they want it, where they want it," said Matthew Shay, president and CEO of the National Retail Federation. "I think that's really causing this rapid innovation transformation and huge investment in the retail industry."
The Cloi shopping cart robot, center, appears on display at the LG booth during CES International, Jan. 9, 2018, in Las Vegas.
​Robot in your shopping cart
One of those innovations, which creates a digital map of store layouts and leads customers directly to what they need. It can even lead customers to their parked car and return itself to a docking station afterward.
"The problem that it's solving for the customers, is that they don't have to wander around the store trying to find their items," said Wendy Roberts, CEO of Five Elements Robotics. The Dash cart could be potentially useful in big box or warehouse club stores.
Roberts adds that retailers also benefit from targeted advertising opportunities, as the cart navigates through certain store sections, it can generate relevant ads or promotions on its tablet display.
"Nowadays, users like to look at screens, sadly, not what's around them," Roberts said. "They stare at the screen while it's moving in front of them, so you've really got their attention to do those targeted advertisings."
Customers can also pay right at the cart, which Roberts says builds on the trend of self-checkout lanes in stores today.
"So many stores are moving to self-checkouts and this is really a mobile self-checkout," Roberts said.
The Dash robotic shopping cart costs about $5,000, depending on the level of software and hardware customization. Models are also available for leasing and cost "a few hundred dollars a month" according to