Today-March 14th, 2019, Thursday: French consumer brand Thomson, which launched a year ago in India, is now introducing India's only 40-inch 4K smart TV. Part of Thomson's promise to deliver 'Friendly Technology' at affordable prices, this TV, priced at INR 20,999/- will be available for purchase online on Flipkart's platform starting 16th March at 12 AM.
Last year, Thomson re-entered the Indian market after an almost 15-year gap and since then has witnessed a significant growth in demand from online consumers, who are savvy and informed about choices. Having set an ambitious target of 6-7 percent market share by 2020, Thomson is banking on e-commerce as a tool to firm up its foothold in India and further establish the brand. Research suggests that the potential for sales in India is around 14 million sets a year, with Smart TVs accounting for about 65 percent of this.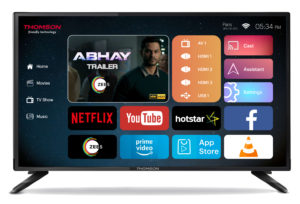 This is Thomson TV's 4th new product launch in the smart TV category over the last year and will further cement the brand's position as the frontrunner in the online TV sale. With this launch, the brand continues to push the envelope and live up to its promise of giving consumer a new and unique experience.
Some key product features of Thomson's 40" 4K TV, will include:
Product specs :
Plays YouTube 4k videos
6 pre-loaded app
Tv Assistant
Android 7.1
Top trending music, movie and tv show video
18 language content
Netflix and prime both available.
Easy Share cast feature
3 days Weather report of the location
Samsung display panel
Enthralled at the launch, Mr. Avneet Singh Marwah, CEO, SPPL, exclusive brand licensee of THOMSON TV's in India comments  "We are excited to launch India's only 40 4k TVs, we want Indian consumers to upgrade their TVs from FHD to 4k at a super affordable price. I'm confident that this will set the trend in the market as consumers have started focusing on specs and better picture quality, as you know in the past the 4k content was limited, therefore this TV comes with the latest specs where consumers can access their favorite 4k YouTube content. Thomson 40 4k will be available with our strategic partner Flipkart."
Commenting on Thomson's new launch Hari Kumar G, Senior Director, Large Appliances at Flipkart said, "As the leading e-commerce marketplace in India, Flipkart is committed to giving our customers the best and latest in technology. Thomson is a strategic partner brand which continues to innovate for India and is launching country's only 4K Smart TV in the 40-inch category. The sleek design and image quality of this television will surely enhance any customer's viewing experience, and we are looking forward to further developing our partnership with Thomson and helping build its brand in the country."