U2opia Mobile launches Reycreo, focuses on game distribution in frontier markets
Reycreo- Easy and fun gaming experience for first-time gamers
New Delhi, 6th October 2017: U2opia Mobile announces the launch of Reycreo, a platform geared to help game discovery and adoption in frontier markets. The Reycreo vision has been tailored to provide a progressive gaming experience for early adopters in these markets. Subscribers to Reycreo have an option to dive into an all – you – can – eat offering of over 500 browser-based bite-size games. This also serves as a simplified initiation to the world of gaming.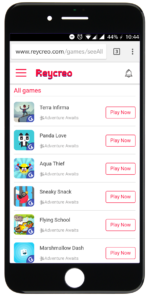 All the games on Reycreo portal are played online at www.reycreo.com. The platform has games across categories including – Action, Arcade, Adventure, Puzzles, and Logic. Users can play all the games on any browser anytime without downloading. A wide range of games can be played on any device, anywhere, any number of times. With multiple language support, users get a great gaming experience on their mobile data or Wi-Fi connection.
Reycreo is currently live in South Africa, India, Malaysia, Cameroon, Saudi Arabia, Oman, Ivory Coast, Nigeria, Indonesia, Bissau and Kenya. The mobile gaming market has huge potential in the frontier markets. By 2020 the mobile gaming industry is expected to cross $2bn in MEA and $30bn in Asia Pacific, which indicates that in next three years, the market may grow up to 60%.
U2opia is actively signing up strategic partners to introduce downloadable freemium and premium games with a specific focus on localized gaming content along with global favorites.
 Sumesh Menon, Co-Founder and MD, U2opia Mobile said, "With Reycreo, our ambitions are to handhold first-time gamers through the exciting myriad world of game content. We are cognizant of challenges of high-speed bandwidth, handset compatibility and access to payment channels that are in some ways curtailing rapid game adoption. Reycreo is working towards solving for these systematically."