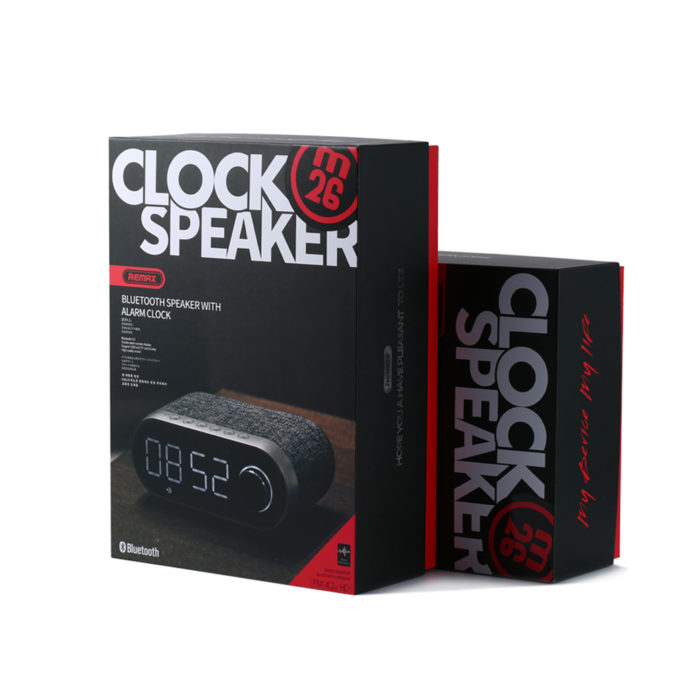 New Delhi-15-Jan-18, WK Life, a prominent multinational corporate in Hong Kong which deals in distinctively designed electronic gadgets and accessories, has recently launched the RB M26 Clock Speaker, a revolutionary design of Bluetooth Speaker with a vintage touch.
The curvy design of this device matches perfectly with a bedside table or a workstation and provides crystal clear acoustic sounds to fill the entire room. A large LED digital clock is embedded on the front display with an analog knob to control the volume.
Unlike its counterparts, this compact wireless speaker is packed with a number of features like track control, 12 or 24-hour twin-alarm clock, USB support, micro-sd and auxiliary playback slots. The external body is sheathed with noise-reduction fabric for a seamless and high-quality sound experience without distortion.
This Bluetooth 4.2 device has a transmission range of 10 meters with a powerful built-in rechargeable battery of 4400mAH to play up to 12 hours of music – perfect for long duration travels and overnight parties. An aux cable and a universal USB cable are also provided inside the impressive packaging box. At a price of Rs. 7,599 this lightweight gadget is a feat of sophisticated technology with an ultra-comfortable design.
WK Life employs paramount techniques for manufacturing high-tech audio solutions, utility gadgets and accessories to enhance user experience. The company has excelled at serving people around the world with a considerable market share.
WK Life is the first company that has successfully combined telecom and electronics to create an umbrella lifestyle brand. WK Life strives to maintain a high rate of customer satisfaction and minimize the impact on the environment by the manufacturing processes. WK Life has 1000+ stores in over 60 nations and more than 4000 employees worldwide.
Price: Rs.7,599/-
Availability: D- 11B, Lower Ground Floor, DLF Mall of India, Noida – 201301