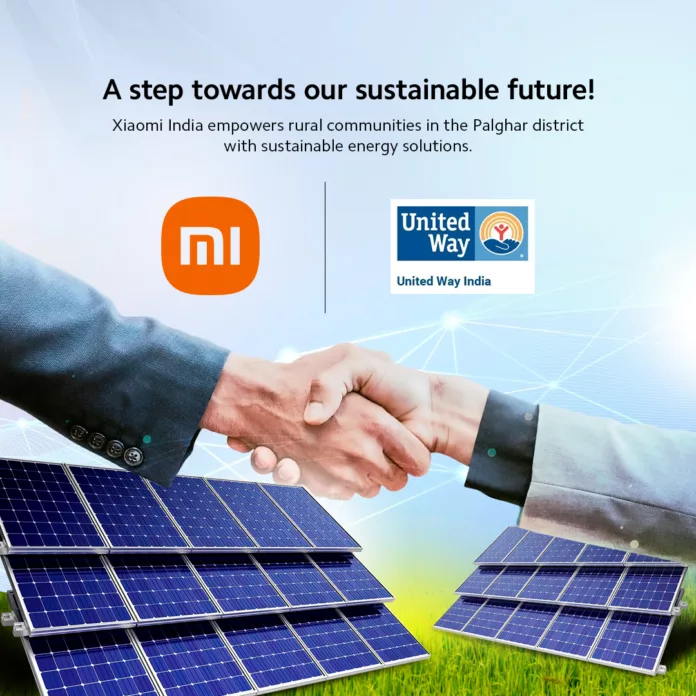 Bangalore, 15 May 2023: Xiaomi India, the country's leading smartphone and smart TV brand, today
announced its new mission, with the aim to empower five villages in the Palghar district of Maharashtra
by providing them with effortless access to sustainable energy, in partnership with United Way India, a
leading global philanthropy network.

The partnership's primary objective is to equip these villages with reliable, sustainable energy through
Solar Photovoltaic (Solar PV) infrastructure. The initiative's aim is to promote clean and renewable energy
by setting up a sustainable solar grid system in villages, which in turn will provide a consistent and
reliable electricity supply and enhance the quality of life for villagers.

Speaking about the partnership, Mr Muralikrishnan B, President at Xiaomi India said, "At Xiaomi, we
strive to create a brighter future for all, and we're proud to join hands with United Way India to turn that
belief into a reality. Our solar electrification project is a step towards promoting green energy that is not
only sustainable but also significantly reduces the impact on the environment."

He further added, "Besides, our latest initiative will empower rural communities and create opportunities for
growth. Through this partnership, we're committed to promoting sustainable solutions that benefit
society and the environment, and ultimately, eradicate energy poverty in Palghar District."

Commenting on the collaboration, Jayanti Shukla, CEO, United Way India said, "Transformation of rural
India by lighting up villages with solar power will not just impact homes, education, health, social security,
and livelihood opportunities but also empower villagers to make this change sustainable to become self-
sufficient. This is a perfect opportunity to give back to our community. We are delighted that Xiaomi is
supporting us in this journey towards a self-reliant India with these interventions that work around our
integrated community impact model and not just help to offset carbon emissions and keep the environment
clean but also help in upliftment of the rural communities."

For over 150 villages in Palghar and nearby districts of Mumbai and Pune, the problem of inadequate and
unreliable electricity supply has been a longstanding issue. These extremely remote villages have
frequent power outages of 6-10 hours each day. This deficit has had a significant impact on the quality of
life for the residents including children, who are unable to access basic amenities, thus impeding
economic growth.

By providing access to reliable and affordable electricity, this intervention will enable multiple efforts such
as zero wood/zero fossil fuel cooking, clean water, sustainable agriculture, and the fulfilment of SDG
goals leading to net-zero energy communities for over 1500 people.

The initiative also aims to provide green energy to nearly 150 homes and enable the provision of daily
basic needs such as lighting for the children to read, write, and learn and 24×7 access to clean drinking
water. Furthermore, the solar infrastructure will become the platform for livelihood activities and income
generation, enabling solar-powered cold storage, solar-powered tailoring, and other income-generating
activities.